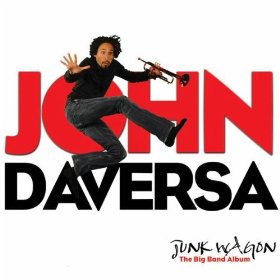 Thursday Night, September 2, 2021 @
8pm & 10pm PST.
JOHN DAVERSA
CONTEMPORARY BIG BAND
John Daversa; Leader, Trumpet and EVI
Saxes; Jeff Driskill, Phil O'Connor, Damon Zick,
John Yoakum, Bob Carr
Trumpets; Ron King, Rob Schaer,
Glenda Smith, Bijon Watson
Trombones; Charlie Morillas, Paul Young,
Vikram Devasthali, George Thatcher
Rhythm; Zane Carney, Guitar; Jerry Watts, Bass;
Gene Coye, Drums
THE HOTTEST BIG BAND IN L.A.
THIS IS TRULY SOMETHING TO SEE ….
$25.00 Inside Seating
$15.00 Patio Seating
$3.25 PROCESSING FEE ON ALL TICKETS BEGINNING APRIL 2020